Best crypto exchanges for Christians to consider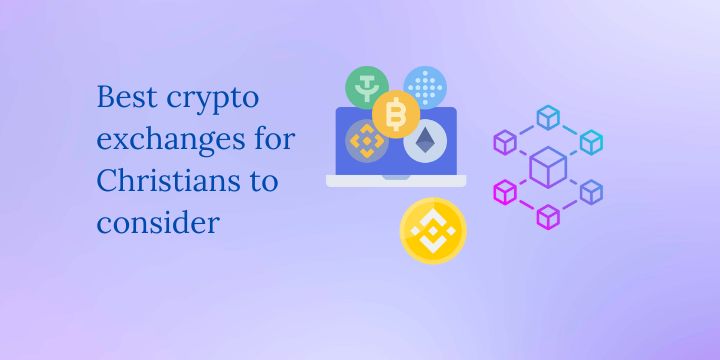 Are you looking for the best crypto exchange for Christians to trade in? A crypto exchange is simply an online marketplace for digital currency exchange similar to a brokerage platform, that provides Christians with the necessary tools to trade cryptocurrencies for other digital assets.
Most crypto exchanges offer tools to buy, trade, and store your digital assets on hot wallets. However, hot wallet storages are not secure as they store your digital assets online using online software.
Related: Should Christians invest in crypto?
I highly recommend considering storing your crypto on a cold wallet storage hardware device like Ledger Nano X. They offer maximum security of your digital assets. In this case, your cryptocurrencies are stored offline and you are the only one with access to your crypto keys.
Below are the best crypto exchanges to consider
What are the best crypto exchanges for Christians to consider?
The best crypto exchange for Christians to trade on include; Binance, Coinbase, Crypto.com, and Coinsmart.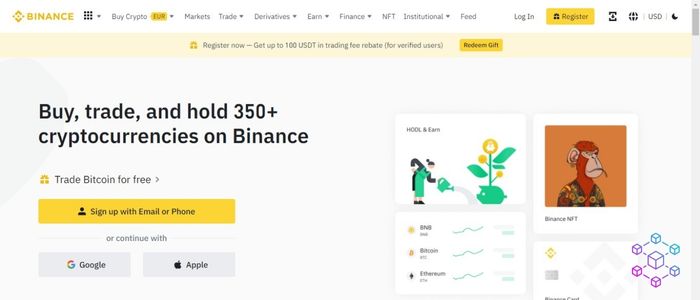 Binance is the largest crypto exchange in terms of daily trading volume of digital assets. They have more than 350 cryptocurrencies listed on their site and offer the lowest transaction fees of < 0.10%. currently, there are more than 120 million registered users on the trading platform.
Binance also offers peer-to-peer (P2P) trading, allowing you to swap and convert crypto. You can buy digital assets via credit and debit cards, P2P trading, or direct wire transfer.
Another interesting feature is their mobile app, which makes it easy to trade on the go. They also offer a hot wallet storage app called Trust Wallet. However, I highly recommend a cold wallet storage for maximum security. You can try Ledger Nano X cold storage.
How to create an account on Binance exchange
Visit Binance's official website and sign up using your email address.
Verify your identity by completing an identity verification process. You will be required to take a screenshot of your ID or driving license.
Add funds to your account to start trading.
Now you can buy and sell cryptocurrencies of your choice.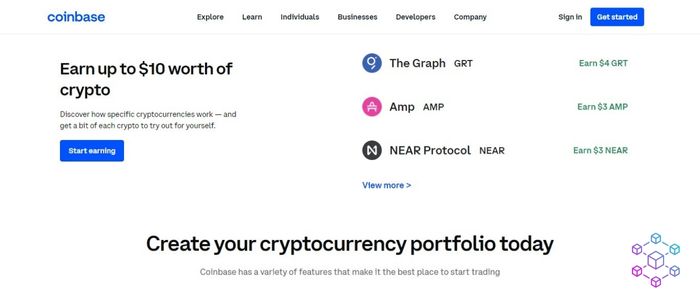 Coinbase is a beginner-friendly crypto trading platform that offers a variety of tools to manage your digital assets.
Coinbase also offers free hot wallet storage to secure your crypto online. For maximum security get a ledger Nano X cold wallet storage. The platform takes security further as the company is insured. They maintain crypto insurance as all USD cash balances are covered by FDIC insurance, to an amount of $250000.
Coinbase is available in 100 countries and currently has over 108 million verified users. They support over 170 cryptocurrencies, while the Coinbase wallet supports thousands of crypto tokens including all ERC-20 tokens (Ethereum request for comment) and EVM (Ethereum virtual machine)- compatible chains.
You can buy and sell crypto on the go using the Coinbase trading app and store them in your Coinbase wallet.
How to create an account on Coinbase.
Visit the Coinbase website and sign up using your email address.
Verify your email address by completing the Coinbase identity verification process.
Link your bank account.
Start trading cryptocurrencies.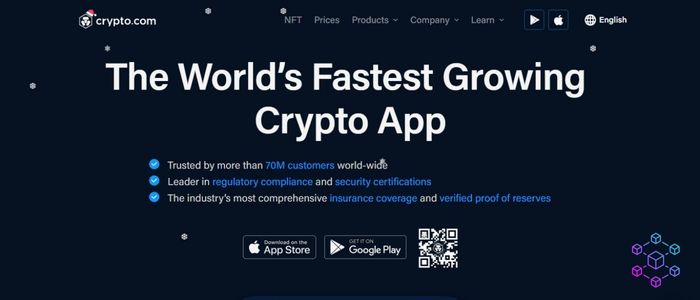 Crpto.com is an excellent mobile crypto exchange app that offers extensive digital assets and its features are easily accessible through a smartphone.
The exchange supports over 250 cryptocurrencies and serves over 70 million customers globally. Cypto.com has its own blockchain called crypto.org chain and a native token called CRO. They also offer crypto visa cards and their transaction fees range between 0.00%-0.075%.
4). CoinSmart: The best crypto exchange in Canada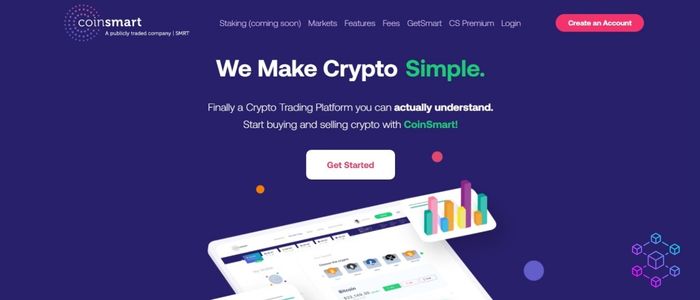 CoinSmart is the best crypto exchange in Canada. It is very easy to use and can be quickly accessed on desktops and mobile phones.
Currently, there are 16 cryptocurrencies listed on their website which include; Bitcoin, Ethereum, Litecoin, Bitcoin cash, EOS, USDC, Stellar, Cardano, Dogecoin, Polkadot, SHIBA INU, Chainlink, Uniswap, Solana, Polygon, avalanche.
The signing-up process is simple and all accounts are verified the same day or instantly.
How to create a CoinSmart account
Visit the CoinSmart website and sign up with you email address and choose a strong password
Verify your email address
You will be prompted to set up a two-step verification.
You will be requested to go through a KYC (Know Your Customer) by providing your phone number, ID, and a selfie.
Once verified, you can fund your CoinSmart account.
That's all! You can now buy and sell crypto.
What to consider when choosing a crypto exchange?
Disclosure: We may earn commission for purchases that are made by visitors on this site at no additional cost on your end. All information is for educational purposes and is not intended for financial advice. Read our affiliate disclosure.