How to choose the best domain name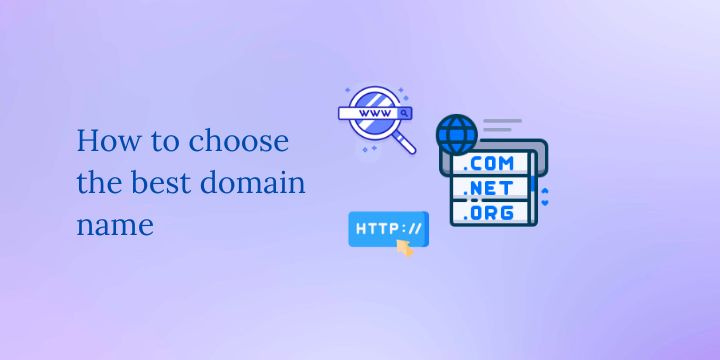 Are you thinking of registering a domain name but are not sure how to choose your brand name? This guide will equip you with the correct information on how to choose the best domain name.
You can get a cheap domain on Namecheap. They also have a tool to suggest a quality domain name.
Choosing the right domain name is an important step in setting up a website. A good domain name can help establish your brand, attract visitors, and improve your search engine rankings.
Tips to choose the best domain name for your website
Remember that a good domain name is an important foundation for a successful website, so it is worth taking the time to choose the best one for your needs. You can use Name Cheap free domain checker.
Which domain extension should you choose?
The domain extension to choose is highly determined by your business goal. A .com extension works well for all niches and general websites. However, this is not always the case for each business.
For example, if you want to start a fast food website in the UK it will make sense to use a geographically specific domain name since your store is located in the UK and you are only interested in serving customers closer to your region. In this case, choose a domain name with a local extension, that is, a co.uk domain extension.
If you operate in Australia and you are only interested in the local market, then choose a .co.au extension. You don't want to go for .com because your business is geographically specific. You also want to avoid people from other regions, in this case from USA, Africa, or Europe to order food at your local store because this is not part of your plan.
The same applies to news websites, you want to target an audience from a specific region. In this case, also, use a .co.uk extension if you are targeting this region. You don't want people from America to dominate your searches as they are the wrong audience for your content.
The advantage of using this strategy in choosing the best domain extension is that Google will know your website is tailored for a specific geographical location and push your site in the search results of this region. This will help your website rank better and reach the targeted audience.
Should you choose .com or .org domain extension?
As an organization, you should consider choosing both a .com and a .org domain extension. This will help in protecting your business and clients.
For example, if you are an organization that deals with elderly care, you might want to choose a domain such as elderlycare.org and elderlycare.com. this will prevent your competitors from stealing your business name. You should also consider registering for a .net domain extension as well.
In other cases, doing so will prevent hackers from creating fake websites that mirror your organization, hence protecting your clients from online scams.
Where can I register a domain name?
There are many options available, however, I highly recommend Dynadot or Namecheap. Dynadot comes with more features, has a user-friendly interface, and is beginner friendly. In addition, Dynadot has fixed prices meaning you will not be charged an extra fee during renewal time, a free DNS manager, and WHOIS privacy protection.
Related: Dynadot vs Namecheap
Dynadot also comes with a mobile app that allows you to manage your website from any location. There is a domain redirection feature that enables you to redirect multiple domain names to your main domain. For example, you can permanently redirect your .com and .net domain extensions to the .org extension.
On the other hand, Namecheap is also an established domain register that offers a variety of features. It has the best performance, even though the domain names are somehow expensive. If you can afford it, then you better go for it.
Disclosure: We may earn commission for purchases that are made by visitors on this site at no additional cost on your end. All information is for educational purposes and is not intended for financial advice. Read our affiliate disclosure.