11 Mistakes to avoid when setting up a WordPress site
As a beginner, it is easy to fail to observe best practices when setting up a brand-new website. It is not your fault, as with any adventure it takes time and a learning curve to become an expert in any field.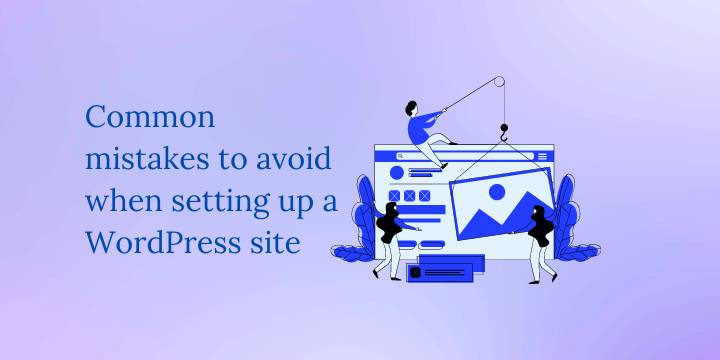 If you have not yet set up your website and are looking forward to doing so, I highly recommend Bluehost. Bluehost comes with every necessary tool you need to begin a successful online business. Their offer comes with a free domain name for a whole year, free SSL, free CDN, and much more.
Some common mistakes to avoid when setting up a WordPress site
Using a weak password
As the website admin, you should consider choosing a unique and secure password to protect your WordPress site from potential hacks. Avoid using easily guessable passwords such as "password" or your name. Instead, opt for a combination of letters, numbers, and special characters. Also, avoid using online password generators as they leave traces behind.
Failure to update your WordPress and plugins
Keeping your WordPress software and plugins up to date is crucial for security and performance. Neglecting updates can leave your site vulnerable to attacks and bugs. Just set all your plugins to automatically update themselves, as well as enable WordPress to also auto-update.
Not using a security plugin
Installing a security plugin helps to protect your site from security threats such as malware and brute force attacks. The internet is not a safe place to be careless. There are many options to choose from, I highly recommend iThemes Security.
Unoptimized images for the web
Remember, large image files slow down your website's loading speed, which in turn negatively impacts your SEO. You can optimize images for the web by compressing them before uploading them to your site. Use a free tool like Canva to resize images and a free plugin like EWWW for compression and conversion to Webp format.
Lack of a caching plugin
Caching plugins improve your website's loading speed by creating a static version of your site's pages and posts. Consequently, improve your user experience and help your website rank higher in search results. I recommend a premium caching plugin like WP Rocket or you can use a free plugin like LiteSpeed cache.
Failing to submit a site map to google
A sitemap is basically a file that contains all your website's links. This can be done in a few steps. Check this article on how to submit your site's sitemap.
Ignoring Google Analytics
Google Analytics tool allows you to track your website's traffic and analyze user behavior. It gives you valuable insights into how your site is performing. If you are using Rank Math, you can easily integrate your google analytics directly into this plugin. You can also use another free plugin to achieve the same goal.
Not using unique and descriptive titles and meta descriptions
The title and meta description of your website's pages and posts should accurately reflect the content of each page. This makes it easy for search engines to understand what your website is all about.
Misusing heading tags
Title tags (H1, H2, etc.) help structure the content on your site and make it easier for both users and search engines to understand. Avoid overusing them. Use one H1 title tag in each post, i.e. the heading of your articles should be H1, and subheadings H2, H3, and so on.
Not utilizing internal linking
Internal linking (these are links that point to other posts on your website) helps search engines to understand the hierarchy and structure of your website's content. They help users to navigate your site and discover more of your content. This can help in increasing your website's retention time.
Using an unresponsive design
More users are nowadays accessing the web from mobile devices, hence, make sure your site is responsive and displays correctly on all screen sizes. A responsive design also helps to improve your SEO as Google favors mobile-friendly sites.
Lack of external links
It is a good SEO practice to consider linking to relevant external resources. For instance, if you are writing an article on the best children's diapers and you happened to draw your inspiration from site B, you should consider linking back to them as reference material.
Disclosure: We may earn commission for purchases that are made by visitors on this site at no additional cost on your end. All information is for educational purposes and is not intended for financial advice. Read our affiliate disclosure.