How to build backlinks for Christian websites
Backlinks are one of the most important factors for ranking in search engines. This is true for all websites, including Christian blogs and church websites. Search engines use them to determine the relevance and value of a web page. I will show you how to build backlinks for Christian websites and churches.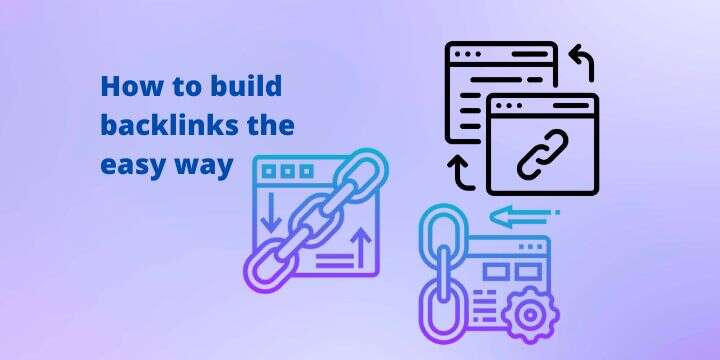 Backlinks help to build your Christian blog and church website's authority. The more backlinks a site has, the better it will rank in search engine results pages (SERPs). If you own a store that sells quality products at an affordable price, people will tend to recommend them to their friends and family members. Backlinks work similarly. Other sites will link to reputable and trusted websites with quality content.
Related: How to monetize a Christian blog
What are backlinks and their use?
Backlinks are links that point to your site from another site. For example, if a Christian blogger finds this article useful and decides to cite it in his article as a quality resource, that will be considered an organic backlink. They are one of the most important ranking factors in Google and they can come from various sources, such as social media, comments on social media, blog comments, guest posts, press releases, and more.
The more backlinks you have pointing to your website, the higher your website will rank on search engines and receive more organic traffic. This is true especially if you are targeting low competitive keywords with high traffic volumes.
What are the qualities of a good backlink?
What makes a good backlink? There are many factors that go into creating a good backlink. Keyword-rich anchor text is the one thing most people think of when they consider creating backlinks, but there are other qualities that make a good backlink as well.
These factors can be broken down into three categories: quality, quantity, and placement.
Quality – A quality backlink should be relevant to the page it is linked to. For example, a link from a health article linking to a blog on the best laptops is irrelevant and misleading. The quality of a backlink is also measured by its DA (Domain Authority). Therefore, consider links from the same niche with a higher DA and avoid links from sites with very little authority.
Quantity – The number of backlinks to your Christian blog does not reflect your site's authority. It is better to have fewer backlinks from high-authority Christian websites than to have thousands from low-authority sites. Websites with a huge amount of low authority backlinks are considered to be spammy.
Placement – Link placement is very key. You want your links to be placed within the main body of a blog (Anchor text links), and not on the footer or sidebar. We will discuss the various types of backlinks below.
I recommend using the right SEO tools such as Semrush and Ahref to find quality backlinks and if possible, build them yourself.
There are many ways to get quality backlinks for a Christian blog. There are also two types of links – organic and paid. Paid links can be bought from sites like Fiverr, while organic links come from other sites that link to your website without charging you anything. That said, let's dig into how to build backlinks for Christian websites.
Related: 8 Best web hosting for beginners
Types of backlinks and their purposes
There are three major types of backlinks which include: Do-follow, No-follow, and Sponsored backlinks. Each of these has its unique function.
Do-follow: These are links that are followed by search engines and will help your website rank better on the SERPs. These links are usually in the form of text. Only use do-follow backlinks to link to websites that add value to your readers.

No-follow: When a link is no-follow, it means it has little effect on your SERP rank as it does not follow any particular protocol, but it can still help you generate traffic to your site. In other words, it is like saying I think this site is good but I don't want to be directly associated with it. It is also used for affiliate links as they do not add any SEO value to your site.

Sponsored: Also known as paid backlinks and is used to inform search engines that the website or page you are linking to has paid for advertising on your site and as such has been given more weight than other types of links.

How to build backlinks for Christian websites and churches
1. Utilize Internal linking
Internal linking is a powerful SEO technique. It helps to increase the Christian site's authority, improve the user experience, and improve the overall rankings of a church website.
Internal links are links that connect one page to another page on the same website. For example, if you are writing a blog on biblical teachings on marriage, then, you should link this article with other blogs in the same category.

Internal links are important because they provide an easy way for visitors to navigate around your Christian site and find information more naturally.
There are 6 types of internal links:
Anchor text links – These are links that use words from within your content as the link text, such as "Learn More" or "Click Here". For example, if in your article you happen to mention any of your previous blogs, you should link to them. This will make it easy for your audience to visit that page by clicking on that link.
Image links – These are images that act as hyperlinks. You can deploy the same strategy on any image on your church website. This should be natural, do not force a link where it doesn't fit.
Textual Links – These are words or phrases that become hyperlinks when clicked upon
Navigation links – These are links on the menu button/section that connects to other pages on your church website.
Footer links – On the footer section of your website you will find footer menu links, a donation page link, links to other services the website offers, and other relevant pages.
Sidebar links – Most websites tend to showcase popular articles, donation button, or their online shop on the sidebar. These are what we call sidebar links.
2. Write valuable comments on other websites
To build backlinks by writing valuable comments on other websites, you should follow these steps:
Find relevant websites to comment on. You can find these by using search engines like Google, Bing, or Yahoo. You can also use social media sites like Twitter or LinkedIn to find people who are relevant to your industry.
Create an account on the website and make sure that your profile is complete. This will help you get more engagement with other users and allow you to be recognized as a valuable contributor.
Write a comment that is informative and provides value for the readers of the site. Make sure that it is not too promotional in nature but instead provides information about a topic that they are interested in or need help with.
3. Deploy guest posting
Guest posts are a great way to build backlinks for your Christian blog. They are also a great way to get your content in front of new audiences and build relationships with other Christian bloggers. It works by letting you publish content on other websites, which can be a good opportunity for you if you want the chance to share your thoughts with people who may not have heard about you before.
There are many high-authority Christian websites out there, however, it might take some effort to be allowed to guest post on these platforms. They are already aware that the majority are only interested in backlinks. So, you have to be outstanding to qualify for guest posting on popular Christian blogs.
Other platforms will require you to pay for guest posts while some bloggers will offer to let you post on their site as long as you give them credit for the work.
You should never pay for guest posts, instead, write a compelling outreach message explaining your experience in this field. Refer to websites you have already worked with and you can consider using your career as leverage.
You can use any of the following outreach templates.
Hi Josh,

I hope you're well! I came across your site (joshwp.com) while I was searching for blog posts on faith and the grace of God. I have to say, I really like your website. You share some great info with the Christian community community - thanks for that!

I am a Christian blogger and my website is on the same niche as yours. I focus on providing educative Christian information to help young people live in purity. You can see my site here: yoursite.com

I would love to write a well-written and informative article for your audience! Looking forward to working with such a brilliant mind. If you are interested, please let me know. Thanks!

Hello Josh,

Thank you for having such an informative website! I came across it while I was searching for articles on faith and the grace of God. Your site is really well done and I appreciate you sharing your knowledge with the Christian community.

I have a family friendly website that I started recently where I focus on providing educative information to help Christian couples to have a deeper intimacy with Christ. You can check it out here: yoursite.com

I would love to write a well-researched article for your readers! Let me know if this is okay with you. Thanks in advance. 


4. Broken link-building strategy
There are more than 1.5 billion Christians in the world today and the majority of them are working hard to build an online presence. Most popular Christian websites have broken links that can be easily fixed.
Broken link building is a strategy where you find broken links on other websites and then reach out to the website owners with a replacement URL (Your site link).
The process is simple. All you have to do is find broken links on a website using a free tool like brokenlinkchecker.com or pro SEO tools like Semrush and Ahref Then reach out to the website owner with a replacement URL, and ask them if they would like to swap the broken link for your new one.
There are thousands of premade templates to help draft a suitable outreach pitch. Show them your work and experience and explain how your link will add value to their site. Make sure your Christian blog is complete and contains original work that adds value to its readers.
Hi [name of blog owner],

I am a big fan of your blog [name of the website] and I loved your last article on [article title]. It really resonated with me and I found myself nodding along to your points. [You can describe this in details].

I have come across a few helpful topics that I believe your readers would love. In fact, [your competitor] ranks for them, but they have a lower domain authority compared to yours.

These are some of the topic I managed to discover
1. [The title of the topic] 
2. [The title of the topic] 

I am confident I could write a piece that would do well for you too. I would like to write any of these topics for you free of charge. I have previously done this for these websites [the name of websites and links to articles you wrote]. 

Regards,
[Your Name]


5. Submit Testimonials
A testimonial is a statement or report, usually written or spoken, that one person makes about the merits of another. It is a type of endorsement. Testimonials are often given to support the quality, efficacy, or benefits of a product, service, or person. Testimonials may be part of an advertisement campaign and may be presented as quotes from people who are using the product.
Backlinks from testimonials play a highly important role in search engine optimization (SEO). They are basically online references to your business, product, or services. Search engines assess the relevance of backlinks to a particular website and use it as a defining factor of the credibility of that website.
A link from a highly relevant website with a lot of traffic is always more valuable than a link from a site with little or no traffic. Therefore, it is always a good idea to collect testimonials that you can submit to relevant websites for a link back to your site.
It is important to submit testimonials to different places on the web. If done correctly, you can expect to get backlinks from reputable, trusted websites and build your online reputation at the same time.
Related: Best Christian advertising networks
6. Create original research work
To build backlinks for a Christian website, it is important to create original research work that can be linked by other Christian bloggers. This will help your site gain credibility and authority in your specific niche and will also help you rank higher on search engines like Google for certain keywords that are related to your industry.
7. Interviewing
Interviewing is a powerful tool to use to build backlinks. This method can be used for getting interviews with people who are in the industry and have a lot of followers on social media.
You can also be interviewed on Christian podcasts and YouTube channels and direct people to your website. Some of the audience who find your website resourceful will organically link to you.
8. Ask friends for backlinks
You can build backlinks by asking friends for them. However, this should be done carefully and in a natural way. You should also not underestimate the power of social media networks when it comes to building backlinks. You should also ask them to upvote your content on Reddit or share it on LinkedIn, Facebook, or Twitter.
9. Publish Ultimate Guides
The best way to build backlinks is by publishing Ultimate Guides on your blog or website. They provide all the information on a specific subject, in-depth and with lots of examples.
They are perfect for building backlinks because they are authoritative and well-researched and have been created by experts in their field and they provide valuable information to the reader.
10. Build free tools such as bible study tools
You can consider building relevant free tools to help the Christian community with certain tasks. This can be an app or bible study materials and free templates that are easily downloaded. The majority of Christian bloggers will find the resources helpful to their audience, hence, linking to your website in their articles, and mentioning you in their podcasts or YouTube channels.
11. Use Google Search Console and Google Analytics reports to get backlinks
You can use Google Search Console and Google Analytics reports to identify your website's referral sources -these are websites that are linking to you. This presents a perfect opportunity for guest posts. You need to find out which pages on the site are ranking for keywords that are related to your niche and then contact them via email and ask them to consider linking back to other articles on your website.
12. Participate in different forums
Participating in forums is a great way to build backlinks. When you participate in these forums, you can share your knowledge about the topic at hand. Quora is the best place to get started.
Once you find a relevant forum, sign up to create an account. This will allow you to post topics and share your knowledge with others. When responding to questions you should consider writing detailed answers and citing your website.
13. Utilize Google My Business listing
Every entrepreneur should consider listing their business on Google for free. As a blogger, you may not have a physical business where customers can visit. In this case, use your career as leverage, that is, if you are a nurse consider creating a Google business account and list your service and where you are located.
While setting up your Google My Business account you will be asked to fill out your website, if you have any, fill in your website to get a free high DA backlink from Google.
14. Use SEO tools to learn your competitor's SEO strategy
You can deploy SEO tools like Semrush and Ahref to understand where other authoritative Christian blogs get their backlink and what strategy they use.
These tools can provide you with a complete backlink profile for other Christian sites, giving you a hint about their top-performing content, which specific keywords they are ranking for, and much more.
With this information, you can tell where they got their backlinks. If it is on a forum or guest post, then you can also reach out to the same platforms and earn yourself backlinks.
Related: Best Christian affiliate programs for Christian bloggers
Why are backlinks so important for SEO?
Backlinks are important because they provide a way for search engines to assess the importance of a website. There are two types of links as we saw earlier: Internal links – When a webpage links to another webpage on the same website. These are usually used for navigation or sharing content with other pages on the same site. External links – When a webpage links to a website outside of its domain (usually without any text visible in the link). These are generally used for marketing purposes.
Backlinks have been around since the early days of the internet, but they have become increasingly important as more people use search engines like Google and Bing to find information on the web. It is important to utilize them.
How to get organic backlinks for your Christian blog
There are many ways to get backlinks but the most important thing is to be creative. Create quality, well-researched original content that will be worth linking to provide you with free backlinks.
An easy way to get backlinks as we discussed earlier is by guest blogging. Guest blogging is a great way to increase your online exposure and build relationships with other bloggers in your space.
Another way is by commenting on blogs that you find interesting and relevant. Commenting on blogs will help you build a relationship with the blogger and also show that you are an active member of their community.
Should you pay for backlinks?
In the world of SEO, you will find a lot of people who will say that you should never pay for backlinks. They will also say that backlinks are a waste of money and that they are not worth it. There are pros and cons to both sides of this debate and it is up to you to decide what is best for your campaign.
There are indeed some shady companies out there who will create bad backlink profiles on your behalf and end up hurting your search engine rankings instead. But these companies do not represent the majority – and for good reason.
When you are starting you will find it difficult to get any backlinks from websites with high domain authority. In this case, you can implement paid backlinks. Make sure the links you are receiving are of high quality and not from bookmark directories or social media comments. Start with just a few links to avoid spamming your site.
You should proceed with caution as poor-quality paid backlinks can be seen as spammy by Google and can result in penalties against your site. However, some people say that it is worth investing in these paid links because they can provide a significant increase in rankings.
Should you exchange backlinks with a friend?
Google discourages "excessive link exchanges" meaning that link exchange is okay as long it is done in the right way without the intention to manipulate PageRank.
The problem with exchanging backlinks is that the web crawlers can detect that you are trying to manipulate the search engine rankings. You might get penalized or your site might be removed from the index altogether.
If you want your website to rank higher on search engines, there are other ways of doing it that avoid the excessive exchange of backlinks with other sites. You should consider reading Google's Webmaster Guidelines.
How long does it take to see traffic for a new website?
It is estimated that it takes around 6 months to a year before seeing any meaningful traction/ traffic to a new website. During this period do your best to build quality links to your website and create a ton of relevant content, especially topics with low competition and high search volume. While starting out consider a keyword difficulty of around 20 and below.
I started seeing some traffic for this website when it was just one week old. I did everything right, created high-quality content, structured it in the right manner, created cluster content (topics that relate to each other), and utilized internal linking. I didn't have any backlinks. The trick was simple, I targeted keywords with a low SEO difficulty.
Disclosure: We may earn commission for purchases that are made by visitors on this site at no additional cost on your end. All information is for educational purposes and is not intended for financial advice. Read our affiliate disclosure.