Postbank swift code, financial statement, and contacts
Postbank Kenya is a premier financial institution offering a range of banking and financial services to individuals and businesses. With a strong presence in the Kenyan market, Postbank Kenya is known for its innovative products, excellent customer service, and secure banking practices.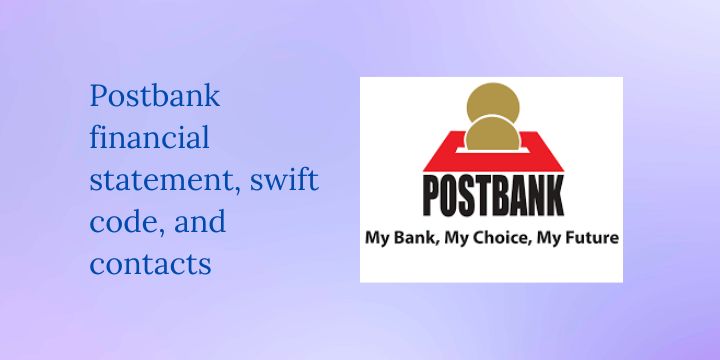 Some of the popular products and services offered by Postbank Kenya include savings and current accounts, loans, insurance, investment options, and foreign exchange services. The bank also has a wide network of branches and ATMs across the country, making it convenient for customers to access banking services.
In addition to its traditional banking services, Postbank Kenya is also at the forefront of digital banking, offering online and mobile banking options for its customers. The bank's digital platforms allow customers to conveniently access their accounts, make transactions, and manage their finances from the comfort of their homes or on the go.
Overall, Postbank Kenya is a reliable and trusted choice for all your banking and financial needs. Whether you are an individual or a business, Postbank Kenya has the products and services to meet your specific requirements. Choose Postbank Kenya for a secure and hassle-free banking experience.
Postbank Kenya recorded a total asset of ksh________, by the third quarter of 2022, while at the same time making a profit of ksh______, by the end of September 2022.
Postbank swift code
The swift code of Postbank is KPOBKEN1.
Postbank Paybill number
The M-Pesa Paybill number of Postbank is 200999.
Postbank USSD code
The USSD code of Postbank is *498#.
Postbank contacts and address
| | |
| --- | --- |
| Branch name | Head office |
| Bank address | Postbank House,16 Banda Street |
| Bank email | [email protected] |
| Customer care number | +254 716 918999 |
| Postal code | P.O Box 30311-00100, Nairobi. |
| Bank website | www.postbank.co.ke/ |