Crypto exchanges that accept Mpesa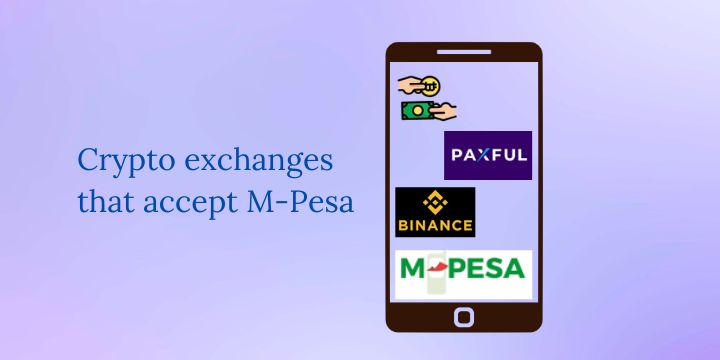 If you are a crypto trader or investor based in Kenya, you may be interested in finding out which crypto exchange accepts Mpesa as a payment method.
This article provides a list of crypto exchanges that accept Mpesa and explains how you can use them to buy and sell cryptocurrencies of your choice.
Related: How to buy bitcoin in Kenya with Mpesa
Which crypto exchanges accept Mpesa
Binance is a crypto exchange that accepts Mpesa as a payment method through its peer-to-peer (P2P) marketplace. To use Mpesa on Binance, create an account and use the P2P method to complete the transaction.
On the P2P market place you will find many listed traders with whom you can trade different cryptocurrencies for local currencies. Chose a trader with a high rating, and one that offers multiple payment options such as M-Pesa, Eazy Pay, and bank transfers. and You can now buy cryptocurrencies such as Bitcoin, Ethereum, and Litecoin using your Mpesa balance.
Paxful
Paxful is a global peer-to-peer (P2P) crypto marketplace that allows users to buy and sell Bitcoin and other cryptos using different payment methods. It currently has over 12,000 verified sellers and more than 6 million users globally.
Paxful is endorsed by large organizations like Forbes, CoinDesk, Nasdaq, Decrypt, and Digital Trends.
The crypto trading platform allows its users to buy bitcoin with debit/credit cards, PayPal, Amazon gift cards, and bank transfers. They also offer a free Paxful wallet to store your Bitcoin. However, I always recommend storing your cryptocurrencies offline on a Ledger Nano X device.
LocalBitcoins
LocalBitcoins is another P2P bitcoin exchange based and regulated in Finland (licensed by the Finnish financial authorities). The platform allows verified users to post advertisements and state their exchange rate and payment methods they accept. In simple terms, the exchange facilities trading of local currencies for bitcoin.
LocalBitcoins has a 4.8-star review on Trustpilot based on 61547 reviews. They are also featured on Bloomberg and Forbes. You can also buy and sell using PayPal and credit cards. It is also one of the crypto exchanges that accept Mpesa.
BitPesa
BitPesa is a pan-Africa crypto exchange that offers access to the deepest Bitcoin liquidity in Africa to institutions and individuals. They specialize in huge crypto-asset transactions and have dedicated personalized customer support.
The crypto exchange is featured on the London stock exchange, WSJ, Forbes, Fortune, and CNN.
Disclosure: We may earn commission for purchases that are made by visitors on this site at no additional cost on your end. All information is for educational purposes and is not intended for financial advice. Read our affiliate disclosure.