9 Best Christian podcast hosting companies (Free trial included)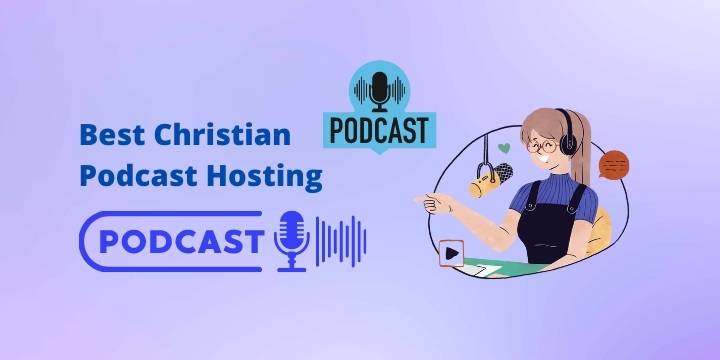 You may be looking forward to starting a Christian podcast to share your faith with others or beginning a church podcast to upload sermons on. Then, choosing the best Christian podcast hosting companies is crucial to making your podcast experience exciting. Podcast hosting is important, but it can seem like a daunting task to find the right podcast hosting service. You can also check out my recommended Christian web hosting companies here.
Here are the top 5 best Christian podcast hosting companies on the market today.
What to consider when choosing the best Christian podcast hosting
Bandwidth– You want to choose a Christian podcast hosting that offers unlimited bandwidth. This feature determines the amount of data flow in any network, in this case, the quantity of podcast episode downloads per month.
Storage– If you are to do audio podcasts, then the file size of your podcasts might not be large as video podcasts. For example, a 30 min audio size is equivalent to around 50MB. If you upload every week, then you will require around ~200MB of storage. However, it is good to go for a podcast hosting that offers unlimited storage. This will make it easy to accommodate future changes easily at no additional cost.
Upload– uploads is the measure of your podcast duration measured in hours. A 10 hours upload means this is the total time you are allowed to upload in a month. Most podcast episodes take about 15-20 minutes, meaning you will still be able to upload around 30 episodes a month.
Podcast analytics– Statistics provide insight into how your podcast is performing on other platforms, the number of users who listened to your podcast, their geographical location, the device they used to search and listen from, and much more. Choose a Christian podcast hosting company that provides free podcast analytics.
Pricing– Every company has its pricing model depending on the number of features they offer. Consider a podcast hosting that provides a ton of podcasting features at a budget-friendly price.
Video podcasting– This is a good option for anyone who wants to host their podcast in video formats. It is somehow expensive but gives you more advantages as you can re-upload your videos to YouTube to attract more audience. For example, Castos offers a YouTube republishing feature.
Podcast distribution– Everyone wants their podcast to be heard on popular platforms (podcast directories) like Apple podcast, google podcast, Spotify, and many others. The Christian podcast hosting company you choose should automatically distribute your podcast for free.
Podcast embeddable player– This audio player enables you to embed all your podcast episodes on your website, making it easy for you to promote your podcast to a new audience. Choose a company that offers a free customizable embeddable player.
Monetization– When your podcast becomes popular you will want to monetize it. Most Christian podcast hosting providers allow you to make money from your content through sponsorships, Ads insertions, and donations from your audience through PayPal and Patreon.
Podcast Transcription– Transcription helps you transform your podcast into an article adding more value to your podcast and reaching a new audience.
Easy migration– In case you want to migrate from your old podcast hosting, the new company should be able to help you transfer your episode files with easy and faster.
Customer Support– Sometimes things can get out of hand and end up needing quality support. Choose a Christian podcast hosting with 24/7 quality customer support.
A free podcast website– Most podcast hosting provides you with a customizable WordPress website that can easily be integrated with a custom domain name of your choice. This helps you to build your brand online. The downside of these free websites is that they contain Ads from your podcast provider. The best thing is to consider an external web hosting company to host your website.
I recommend Bluehost as they are the number one web hosting company endorsed by wordpress.org. Their hosting plan begins at $2.75/m and comes with a free domain name for a whole year. Hostinger is another good option as it is packed with all features you need to start a successful website, their plans start at $2.99/m for unlimited websites and a free domain for a year.
Best Christian podcast hosting companies to consider.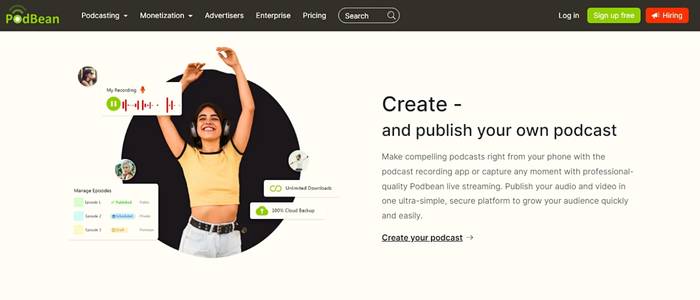 Podbean is one of the best Christian podcast hosting providers in the market. They have over 10 years of experience in the industry. To date, they have hosted more than 630,000 podcasters, served more than 12.5 million episodes, and over 10.3 billion downloads. They are trusted by big Industries such as IBM, J.P Morgan, the University of Virginia, and others.
Podbean provides you with all the tools you need for podcast management. They also offer a free podcast website with professional themes to fully customize your site for your needs. On top of that, they allow you to use your own custom-branded domain name for your podcast website.
They help you promote and distribute your podcasts making your voice heard by a new audience. This helps you to grow your audience faster.
Podbean helps you to monetize your content by offering an advertising marketplace where you can get matched with potential advertisers. You can also make money with your fans' support on Patreon for podcasters. Podbean allows you to publish content meant for Patreon which can only be accessed by your Patreon fans.
Features of Podbean
Unlimited storage and bandwidth– this allows for unlimited audio and video hosting.
Video podcast– on the unlimited plus and business plan.
A free embeddable player– this helps you to embed your podcast episode on your website for easy access by your website visitors.
A free podcast website– to build a brand name.
Podcast distribution and promotion– this tool automatically submits your podcast episodes to top podcast directories like Apple Podcast, Google Podcast, Spotify, and other podcast apps.
Advance podcast Analytics– They offer comprehensive statistics to provide insight into your podcast performance. This includes users' retention, listener geographies, downloads by the time of day, downloads and trades, and the device your audience used to search for your podcast.
Podcast monetarization– This feature helps you to make money through the monetization Channel that fits you. You can list your podcasts in their advertising marketplace to find potential advertisers, dynamic ad insertion, and Patreon.
Live stream podcast– live stream enables your audience to call or send instant messages to your live show. Also comes with remote co-hosting, and the ability to sell virtual tickets, and receive virtual gifts from your audience.
Podcast studio app– That facilitates a convenient way to record your podcast in studio quality from any location. This feature also includes exclusive music integration from their music library, magic editor, and lastly, the ability to collaborate with a co-host from anywhere.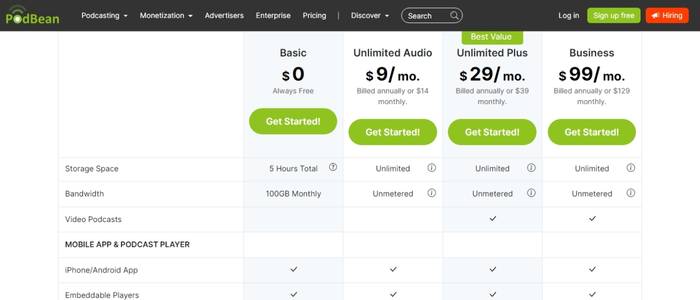 Podbean Price
Basic plan– this is a free plan and comes with 5 hours of storage and 100GB monthly bandwidth, a free website, podcast distribution, and an embeddable player.
Unlimited audio plan– starts at $9 per month and includes unlimited storage and bandwidth, all features in the basic plan, custom domain integration, ads marketplace, and Pod Ads.
Unlimited Plus– starts at $29 per month and comes with all the features in the Unlimited audio plan + video podcast and Patreon program.
Business plan– starts at $99 per month and includes all the above features + multiple admins, private podcast, engagement Intel, live chat support, Podbean app, and removal of the brand name.
All subscription plans come with a 7-day free trial except the basic plan which is free as long as you do not exceed the allocated resources.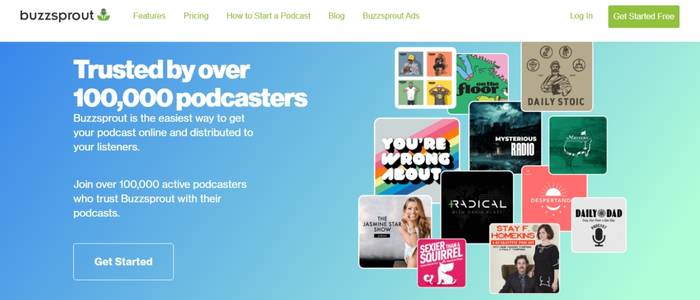 Buzzsprout is another podcast hosting for Christian content creators. Comes with a pack of everything you need to host a Christian podcast, promote, and even track your podcasts.
They help you reach a large audience by automatically listing your podcast on popular podcast directories such as Spotify, Google podcast, apple podcast, Alexa, and many more.
Buzzsprout offers advanced podcast analytics to track your podcast progress.
Your work is to upload your files and they will automatically optimize your episodes, publish immediately, or schedule for a day of your choice.
Buzzsprout features
Automatic episode optimization.
Advanced analytics– to track your podcast statistics such as geographical location, the app used to listen to your podcast, total downloads over time, and much more.
Podcast distribution– they list your podcast on major podcast directories for easy access by your audience.
Dynamic content tools– this allows you to remove pre-roll and post-roll segments from a podcast episode.
Podcast transcription- to make your podcast visible to search engines and add value.
A beautiful embeddable player– with advanced controls, and share buttons, and is easily customizable.
A free podcast website– A website helps you to stand out and create a brand name for yourself. They also allow custom domain integration.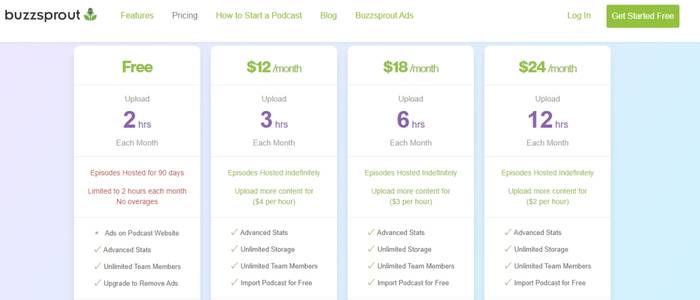 Buzzsprout prices
Free plan– comes with an upload of 2 hours, advanced stats, and unlimited team number.
$12 per month plan– allows for 3 hours of podcast uploads, unlimited storage, and free podcast import.
$18/mo plan– includes all the above features and a 6-hours upload.
$24 per month plan– allows for a 12-hours podcast upload.
All plans come with a free podcast website, podcast statistics, podcast distribution, and custom embedded play.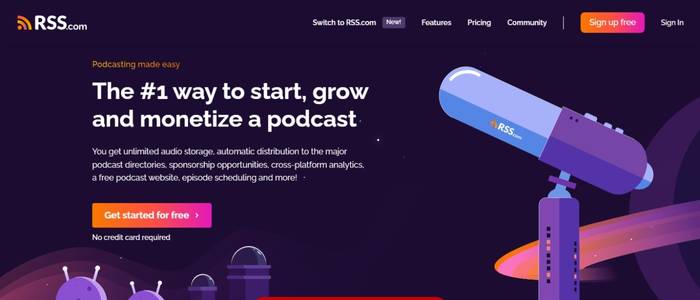 RSS.com is rated as the top best Christian podcast hosting company. They have a 4.92 out of 5-star rating on reviews.io. Their pricing models are suitable for everyone who wants to start a Christian podcast and the plans come with a pack of features to take your podcasting experience to another level.
RSS.com automatically distributes your podcast episodes to popular podcast directories. They take care of everything for you, hence you have enough time to focus on creating quality content.
They also have a well-designed customizable episode player to embed your podcast on your website. In addition, they offer a free website ready for donations.
If you are thinking of migrating to RSS.com, they have a 6-month free offer for you to consider. They will also help you transfer your content without losing your subscribers or any downtime.
…and get 6 months of free service!
RSS.com features
Dynamic ad-insertion technology- they insert pre-roll, mid-roll, and post-roll Ads into your podcast episodes. This feature is on their custom plan.
A ready Ad marketplace to get sponsorship.
A free podcasting website that is fully customizable and optimized, and has donation and social sharing buttons.
Free episodes transcription.
A 30-day money-back guarantee. The free trial does not require any credit card to sign up.
Cross-platform analytics.
Unlimited episodes.
Unlimited duration.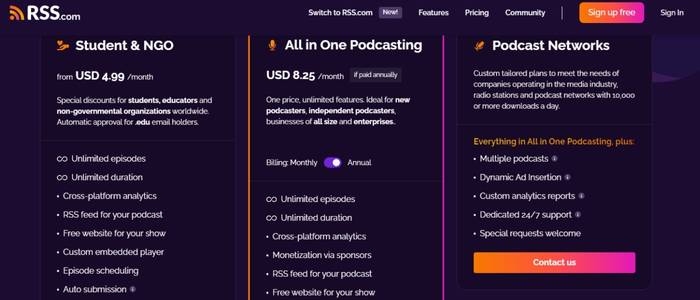 RSS.com Prices
Students and NGO– $4.99/m.
All-in-one podcasting– $8.25 per month. This is the best plan to choose as it allows you to monetize via sponsorships, offers 24/7 support, and has a custom embeddable player.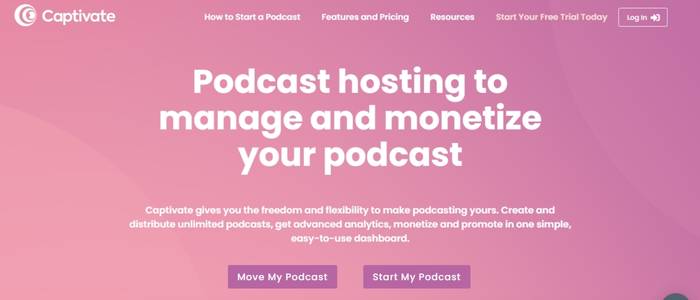 Captivate is a beginner-friendly and easy-to-use Christian podcast hosting company. It offers you the flexibility and resources to make great Christian podcasts. The hosting comes with a ton of features out-of-the-box, helping you concentrate on creating quality podcasts.
Captivate distributes your podcast on popular podcasting destinations, making it super easy for a new audience to find you online. On top of that, they allow you to create and distribute unlimited podcasts, monetize, and promote your content.
They work with prominent institutions such as Harvard University, Cornell University, the Church of England, Entrepreneur, and many more.
Features of Captivate
Unlimited podcast upload and storage.
Transcription support- this feature transforms your audio into articles.
Advanced analytics to track all your podcast activities and trends.
Free podcast website where you can embed your podcast episode and write articles, and collect email addresses from subscribers. They allow you to integrate your custom domain.
An in-built podcast marketing suite such as sponsor kits and private feeds.
Full flexible podcasting which is easy to set up or migrate to captivate.
Quality customer support or no plans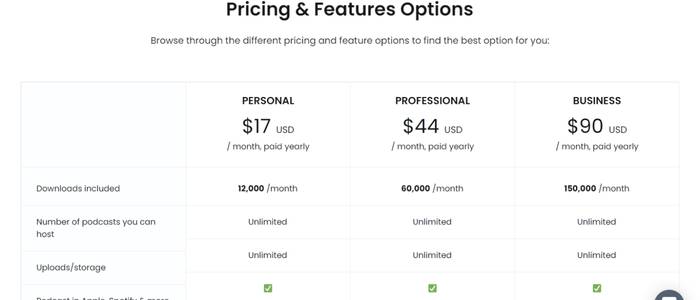 Captivate Pricing
Personal plan– starts at $17 per month and includes 12,000 monthly downloads.
Professional plan– starts at $44 per month and includes 60,000 monthly downloads.
Business plan– starts at $90 per month and includes 150,000 monthly downloads.
All plans come with unlimited storage and uploads, advanced analytics, private podcasting, captivate sync WordPress plugin, podcast promotion, and much more.
The best part is that all plans include a no-obligation 7-day free trial.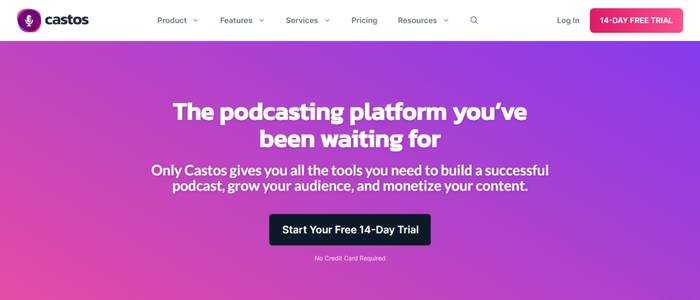 Castos provides creators with the necessary tools to grow their audience and monetarize their podcasts. It is one of the best Christian podcast hosting companies to consider.
They offer you a free responsive podcast website, making it easy to establish your brand and allow your audience to subscribe, and interact with you.
Castos provide all their customers with their free WordPress plugin that aids in uploading episodes, viewing listeners' analytics, creating multiple feeds, customizing their player, and importing all your podcast content into your website.
As a customer, you will get free access to popular Castos courses to help you gain new skills necessary for your day-to-day podcasting.
Castos features
YouTube republishing helps you to reach a large audience.
Automatic podcast transcription.
Advanced analytics.
Unlimited podcast and episode hosting, and you can create up to 4-hours of episode length.
Free one-click migration from the previous host- they help you import all your existing content to Castos.
A customizable free podcast website to build your brand.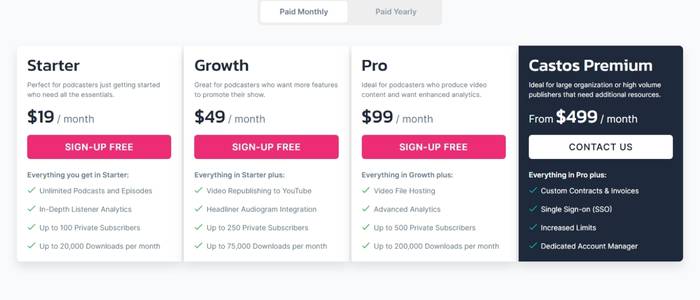 Castos Prices
Starter plan– $19 per month. Includes up to 20,000 monthly downloads and up to 100 private subscribers.
Growth plan– $49 per month. Includes video republishing to YouTube, up to 250 private subscribers, and up to 75,000 monthly downloads.
Pro plan– $99 per month. Includes video file hosting, up to 500 private subscribers, and 200,000 monthly downloads.
Get a 14-day free trial there is no credit card required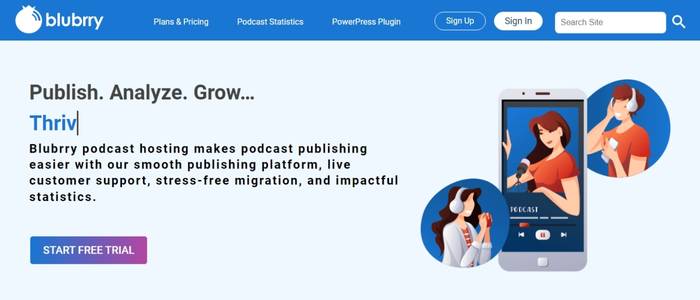 Blubrry is an experienced podcast hosting company and has been in the industry since 2005. They are fully dedicated to providing their customers with essential podcast hosting tools and there are over 125,000 podcasters that use Blubrry.
Blubrry distributes your episodes to all major platforms and directories. In addition to that, they provide you with their podcast plugin for WordPress which has over 100 features.
Features of Blubrry
Unlimited downloads on all plans.
A free podcast website.
A custom embedded player.
Advanced statistics.
Phone and email technical support.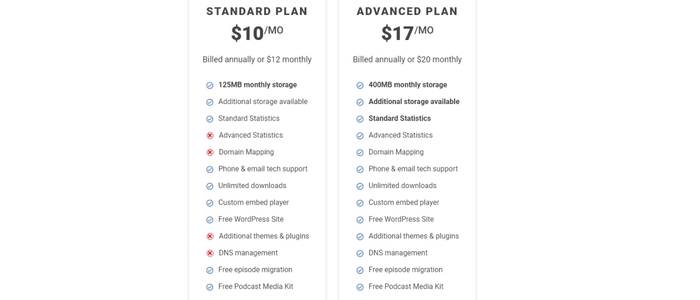 Blubrry Pricing
Standard plan– $10 per month and includes 125 MB monthly storage.
Advanced plan– $17 per month and includes 400 MB monthly storage.
Pro hosting plan– $100 per month with unlimited storage, 1TB bandwidth, Ad insertion, and unlimited account sharing with your team.
Transistor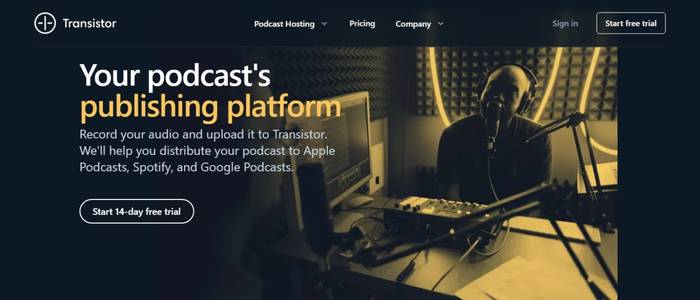 Transistor is one of the best Christian podcast hosting companies, easy to use, and with all the essential features to start a Christian podcast. They have been in the industry since 2018.
They offer you a built-in website for your podcast to showcase your podcast episodes and increase your online visibility.
Transistor also has a well-designed embeddable podcast player. On top of that, they offer detailed podcast analytics to help you track your podcast stats.
Features of transistor
Free podcast website.
Quality embeddable podcast player.
Advanced analytics, providing insight into your podcast progress.
Free podcast distribution on major platforms.
Create unlimited podcasts.
Private podcast hosting.
Dynamic Ad insertion on their professional and business plan.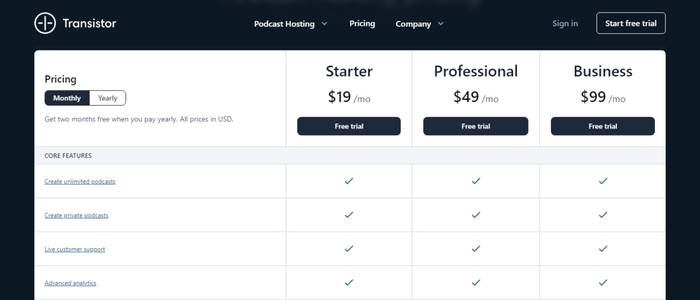 Transistor Prices
Starter plan– $19 per month and includes 20,000 monthly downloads and 50 private podcast subscribers.
Professional plan– $49 per month and includes 100,000 monthly downloads and 500 private podcast subscribers.
Business plan– $99 per month and includes 250,000 monthly downloads and 3000 private podcast subscribers.
Podcastics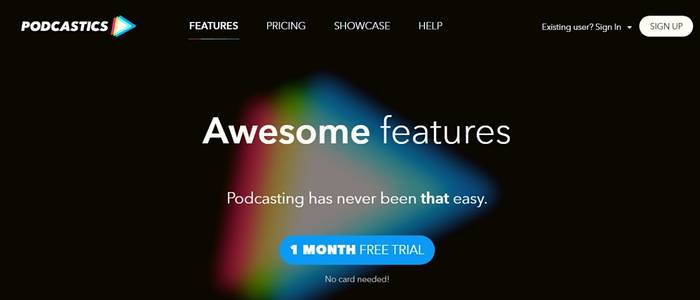 Podcastics is packed with all the vital tools to run a Christian podcast with ease and minimal skills. It is among the best Christian podcast hosting to consider when starting your podcasting journey.
They provide you with a free website and distributor podcast everywhere. Their audio player is highly customizable and does not contain an unwanted advertising logo.
Podcastics hosts your podcasts on high-quality Amazon servers with a powerful backup system in place, so you do not have to worry about losing your content.
Podcastics features
Pro support using the built-in support system.
Unlimited storage.
Advanced statistics.
Automated transcription.
Live streaming.
Monetize by adding your Patreon, papal, and Tipeee links.
Podcastics Prices
Pro plan– $8 per month with all the above features.
Max plan– Starts at $39 per month.
Libsyn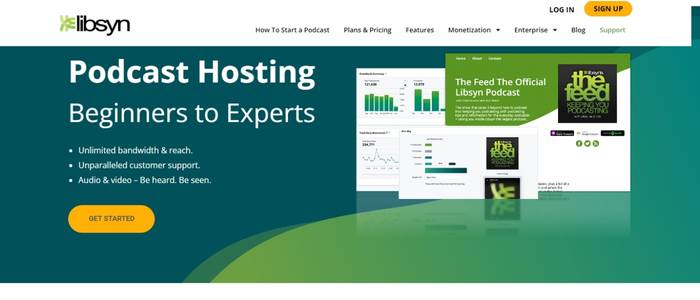 Libsyn is a straightforward and easy-to-use host. It is also one of the best Christian podcast hosting companies to consider in this digital era. All their plans include free podcast imports, a free podcast website, a custom podcast player, and much more.
Like other quality Christian podcast hosting companies, Libsyn also distributes your podcast to all popular platforms and apps.
Libsyn key features
Advanced analytics and audience insights.
Unlimited bandwidth- meaning there is no download limit for your podcasts.
An Ad-free podcast website to promote your brand.
Podcast monetization- including podcast subscription and advertising on all the plans.
A custom smartphone app.
Libsyn Pricing
There are two pricing models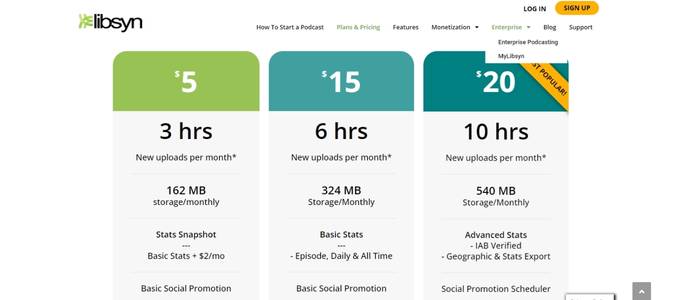 a). Stella plan– has three plans, $5 per month with 3 hours of uploads, $15 per month with 6 hours of podcast upload, and $20 per month with 10 hours of upload. All plans come with unlimited bandwidth, a free website, podcast monetization, a custom podcast player, and analytics.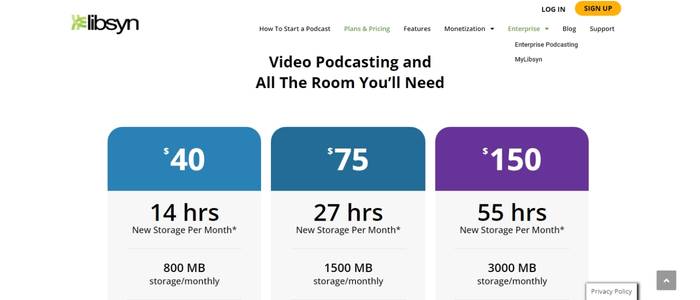 b). Video podcasting plan– has three levels, $40 per month with 14 hours of uploads, $75 per month with 27 hours of monthly uploads, and $150 per month with 55 hours of monthly uploads. All plans come with Stella advanced features.
Disclosure: We may earn commission for purchases that are made by visitors on this site at no additional cost on your end. All information is for educational purposes and is not intended for financial advice. Read our affiliate disclosure.