12 Best passive income streams for Christians to consider
Are you creative and looking for the best passive income streams for a Christian to consider? Most people are used to traditional jobs, however, there are many ways to make a living these days as long as you are willing to learn the necessary skills and implement the right strategy. Skills like starting a website.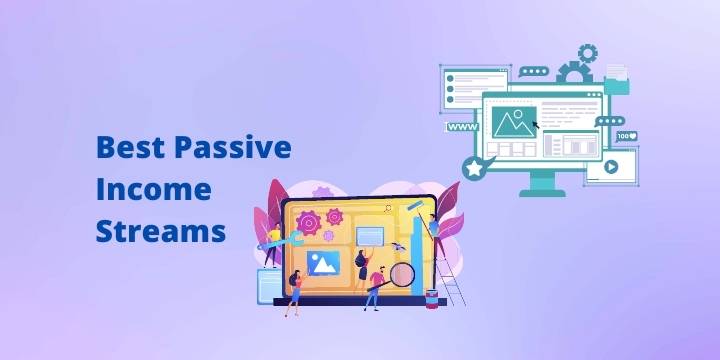 There are many problems with over-reliance on one job, as life is dynamic and anything can happen anytime. Therefore, it is wise to have a backup plan to ensure a steady flow of income. This is where passive income streams play that role.
The Bible advice us in Ecclesiastes 11:1-2, that we should "cast our bread upon the waters, for we will find it after many days (it is talking about investments). Give a portion to seven, or even to eight, for you know not what disaster may happen on earth".
Again, in verse 6, we are urged that "in the morning sow your seed, and at evening withhold not your hand, for you do not know which will prosper, this or that, or whether both alike will be good". In other words, have several income streams to avoid inconveniences in the future.
What are the best income streams for Christians to consider?
Blogging
Blogging is the easiest and cheapest way to make some decent money online. It has few requirements and needs minimal skills to start. There are billions of queries on google and someone has to provide the answer to these questions through articles. Once you create quality content and start ranking on various search engines, you can consider monetarizing your website to earn money through ads, affiliate programs, or sponsorship programs.
You only require a website and domain name to achieve this. You can check my recommended list of the best web hosting providers to host your website and the recommended domain provider for your website domain name. If you don't know where to begin, you can check my ultimate guide on how to start a profitable website here.
You can write most of the article or choose to outsource the content. See my recommended platforms to hire a content creator to write your articles.
Freelancing
Am pretty sure you have heard of freelancing. It is simply offering online services for a price. Freelancing is the cheapest way to earn a passive income as there are no overhead costs incurred. The service you offer may include writing articles, and academic papers, creating digital art for others, proofreading, article rewriting, and much more. These are very easy tasks that require minimum skills. You can sign up on platforms such as Fivver, Freelancer, Upwork, and Kwork to begin earning passive income today.
Book reviews
Perhaps, you are someone that loves reading books. Why don't you turn that ability into income? It is simple. There are companies out there that pay people to review their products including books. They give you a guide on how to review their products, and once you do a great job, you get paid. The amount may differ for different products.
Monetizing your social media
Are you someone with many followers online on Instagram, Facebook, or TikTok? Then you can turn your social media activity into an opportunity. You can achieve this through sponsorships by promoting certain products your audience likes, you can also use the platform to promote your own brand, and use it for affiliate marketing.
Sharing your faith on YouTube
YouTube is the world's largest video streaming platform, with over 720,000 hours of fresh content published a day. You can also tap into this opportunity and make a passive income. Some people have become too good at it and chosen to be full-time YouTubers and content creators.
You need to have a clear plan when beginning a YouTube channel. For example, you can choose to share your faith with your audience and with time build a following and then monetarize your channel. You can also become a critic and comment on day-to-day political and other social activities in society. There are content creators making millions from this, such as Jake Tran, Sydney Watson, Jordan Peterson, Candace Owens, and Isaiah Saldivar.
Creating and selling E-books online
E-books are the new digital book and for good reasons. They are cheap to produce and sell, convenient to carry and own, and are available to millions of people in a matter of just a few minutes. And if you are a Christian and looking for a way to earn passive income online, an e-book is definitely one of the best passive income streams you can think of. You can look at my online shop for inspiration.
Selling art on Esty
I have found that selling digital downloads on Etsy is one of the best passive income streams for a Christian to consider. Etsy is an online marketplace where you can sell just about anything, including digital downloads, handmade and vintage items, as well as, craft supplies. To do this, you will need to create a digital product and then sell it on Etsy. You can start selling digital products on Etsy even before creating an actual product.
Investing in stocks
One of the best ways to generate passive income is by investing in stocks. You can start by opening an individual account at a discount brokerage of your choice. Once you move your money over to your account, you can start building your portfolio. You can invest in individual stocks, or invest in mutual funds, or ETFs. This will allow you to diversify your portfolio, which reduces your risk.
Investing in crypto
All of us have heard of cryptocurrencies and have an idea of what they are. Cryptocurrencies are digital currencies that are encrypted using a technique called cryptography, and they are secured using blockchain technology. You could say that they are the next stage in the evolution of money.
Cryptocurrencies are a new way of looking at money, and they have the potential to change the world. There are several ways to earn money with cryptocurrencies – mining, trading, and investing.
However, the crypto market is volatile, and you should do thorough research before risking your money on any investment.
Selling online courses
Many people want to get into business and make a living from their ideas. Selling courses online is something that can easily be done and many people are choosing to take this option. All you need is a plugin that supports this function. I recommend LearnDash as it comes with premade online course designs and tons of other functionalities to enable you to run a successful online course website.
As long as you think about your target audience, create practical courses that serve a purpose, and write a few good sales pages, you will be able to make a living by selling online courses on any topic.
Making and selling herbal homemade soaps
Making your homemade soaps is one of the most rewarding hobbies you could ever have. Making and selling herbal homemade soaps can be done by anyone. You don't have to be a specialist or have a degree in chemistry. All you need is to learn the basic skills, have basic equipment, and be creative. You can then sell your soaps online on your website or on amazon.
Start an online store
If you have been looking at different ways to make money online, then you have probably come across the idea of starting an e-commerce store. You can sell your e-books, digital products, and other homemade products in your store.
You will need a simple woo-commerce website, which is a WordPress website integrated with the woo-commerce plugin. Find a good hosting provider and a suitable domain name for your online store.
You can look at my online shop where I sell e-books.
Investing in real estate
Land is one of the most precious assets as it appreciates in value with time, unlike other assets. You can purchase a piece of property and sell it later at a profit.
The real estate market has become a great investment opportunity for many Americans, who have been affected by the financial crisis. But is buying a real estate property a good choice for you and your family? First, you should consider what type of investment you are looking for.
Do you want to improve your financial situation or become financially independent? Regardless of the answer, you should know that the real estate market is volatile. If you do not have a great deal of cash, you may get into a debt spiral that is hard to get out of.
As a rule of thumb, you should have at least 20% of the total cost of the property to use as a down payment. But if you have the money and your financial situation allows it, investing in real estate may be a great choice. You should start with a small investment and learn all the ins and outs of the market, including the best real estate investment strategies. If you do your homework, you can make an excellent profit.
Starting a podcast.
Podcasts are a great way to get your voice out there and start earning an income. It is much easier to create a podcast than to create a blog where you have to write articles, upload images, and format everything correctly. There are a lot of steps involved in getting a blog to look right, whereas a podcast is just you. You can record directly from your computer and upload it straight to your podcast hosting. It's a lot easier to get started.
First, you need to create a good audience to be able to profit from your podcast. Most of the income is generated through sponsorship deals and affiliate marketing. You can check my recommended list of best podcast hosting providers here. You will only need a podcast hosting provider, a microphone for recording your audio, or a camera if you choose to do video podcasts.
This is not a get-rich-quick scheme, it takes time, effort, dedication, and motivation. If you are not willing to give it all of these things, then do not even bother starting.
Disclosure: We may earn commission for purchases that are made by visitors on this site at no additional cost on your end. All information is for educational purposes and is not intended for financial advice. Read our affiliate disclosure.