Commercial bank of Africa asset base and contacts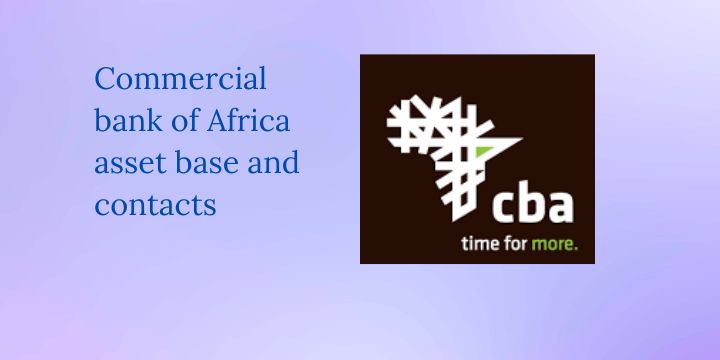 Commercial Bank of Africa (CBA) is a leading financial institution in Kenya. Established in 1962, CBA has a long history of serving the banking needs of individuals and businesses in the country. The bank offers a wide range of products and services, including retail and corporate banking, investment banking, wealth management, and insurance. CBA has a strong presence in Kenya, with over 50 branches located throughout the country.
In recent years, CBA has focused on expanding its digital banking capabilities to better serve its customers. The bank has introduced mobile banking and online banking platforms, allowing customers to access their accounts and conduct financial transactions from their phones and computers. CBA has also invested in advanced security measures to ensure the safety of its digital banking services. Overall, CBA is committed to providing high-quality banking services to its customers in Kenya and beyond.
On 1st October 2019, CBA and NIC bank successfully merged to form NCBA.
Commercial bank of Africa asset base
By the third quarter of 2015, Commercial bank of Africa recorded a total asset of Ksh 215.6 billion, and made a profit of Ksh 3,592 billion, by the end of September 2015.
Commercial bank of Africa contacts and address
| | |
| --- | --- |
| Branch name | Head office |
| Bank address | CBA Building, Mara/Ragati Road, Upper Hill |
| phone number | +254 732 156 444 |
| Postal code | P.O. Box 30437-00100, Nairobi |
| Bank website | www.cbagroup.com/ke |